DW-RS232
Jump to navigation
Jump to search
DW-RS232.C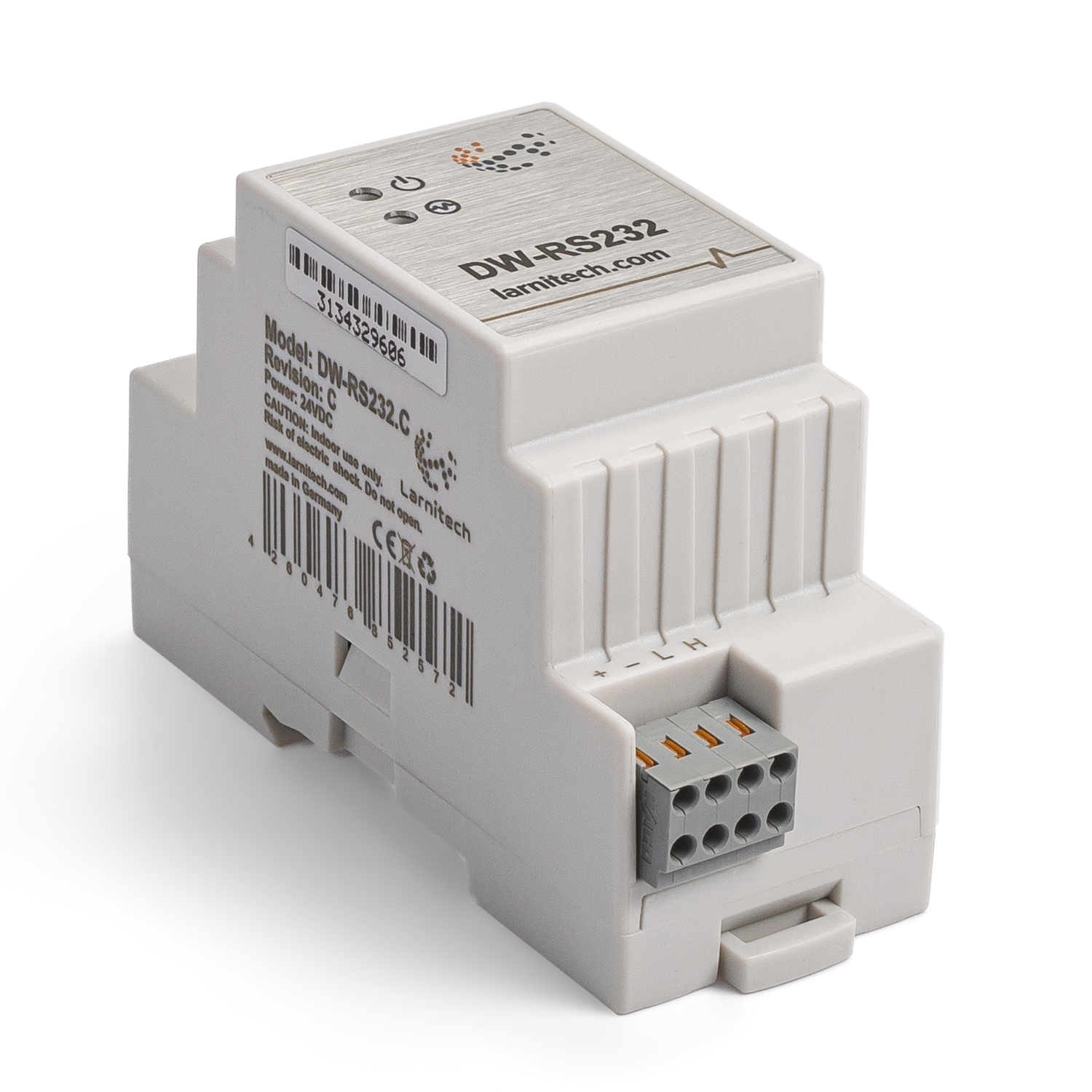 Interface
Number of RS232 ports
1
Data transfer speed
1200-115200 b/s
Other
Supply voltage
11.5...27.5 V DC
Dimentions
2U, 36x97x58 mm
RS232 INTERFACE ADAPTER
This module is designed for interface adjustment between the devices which have the RS232 interface and the Smart Home system.
CAUTION! All work related to the installation, connection, setting up, service and support must be carried out by qualified personnel with sufficient skills and experience in working with electrical equipment. To avoid the risk of fire, electric shock, damage to the system and/or personal injury, the system installation and assembly must be performed in accordance with the instructions listed below:
all connectivity work must be carried out with the power turned OFF;
use appropriate tools and personal protection against electric shock;
do not use damaged cables, wires and connectors;
avoid folding the cables and wires;
do not apply excessive force to the wires by kinking or pressing them too hard: the inner conductors of the cables and wires may get stripped or damaged;
do not use the power socket with poor contacts to connect;
do not exceed the load limit parameters specified in the manual;
the supply conductors wire section is subject to the specifications for current density limit, insulation type and wire material. Light section can result in cable overheating and fire.
When the power is on, NEVER:
connect/disconnect the connectors;
open modules and sensors.
Overview

Module dimensions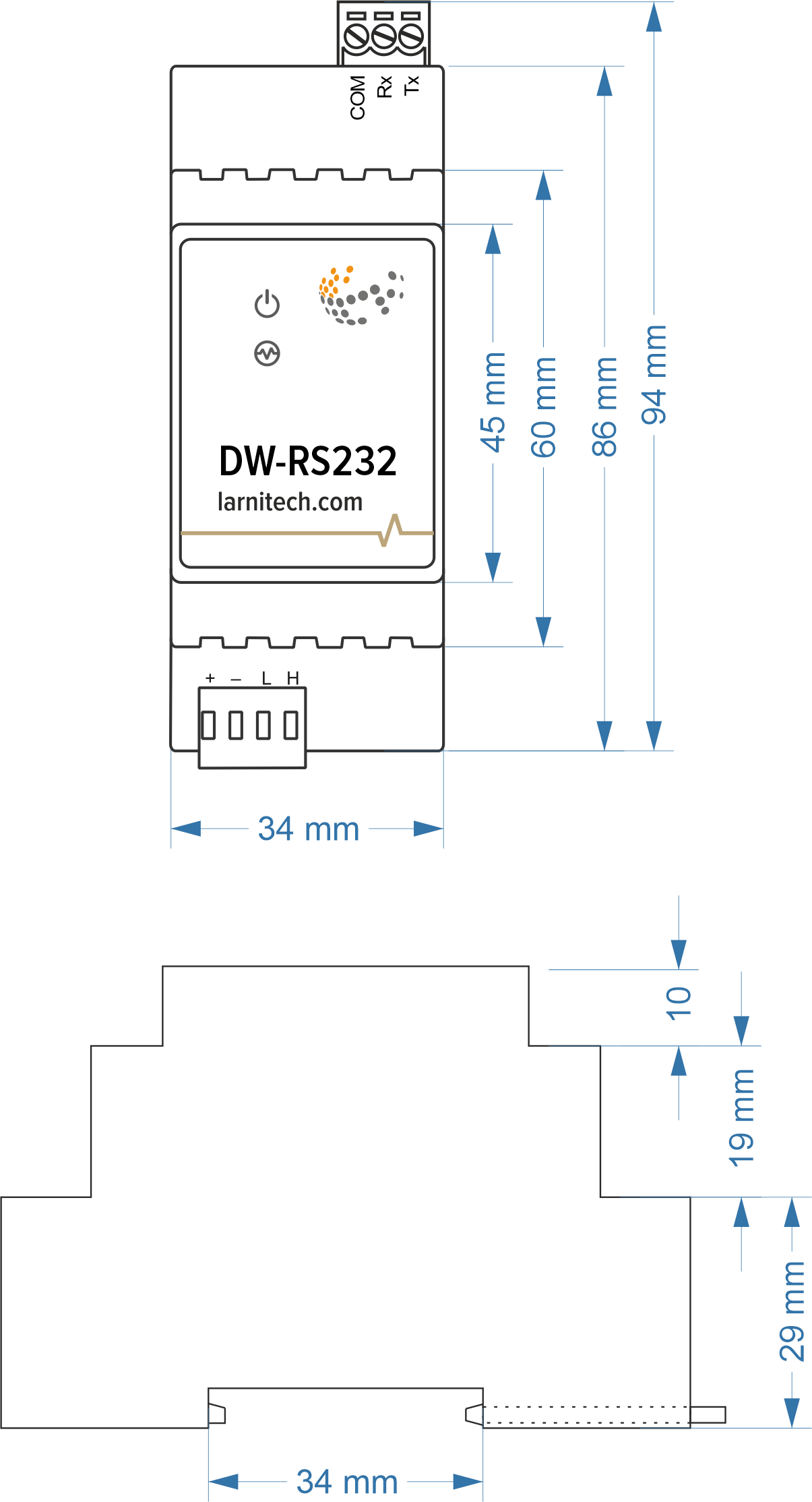 Example of connection

Module parameters
| Parameter name | Value |
| --- | --- |
| RS232 ports qty | 1 |
| Power supply | 11.5 … 27.5 V DC from CAN |
| Max current(24V) | 40 mA |
| Data transfer speed | 1200-115200 b/s |
| Bus type | CAN (4-wire) |
| Equipment installation type | DIN rail (EN 60715) |
| Case material | ABS |
| Protection | IP40 |
| Temperature range | -10 … +50 °C |
| Size | 2U, 36x97x58 mm |
| Weight | 130g |
Indication of module operation
Bootloader
Indicator
Status
Description

Device in bootloader

Downloading firmware
Flashing firmware
Firmware
Indicator
Status
Description

Identification
Operational mode


Error
Lost connection to server
Lost connection to AC
RTC error


Activity
Transmitting data
Receiving data
Module installation and connection procedure
Install the module in the switchboard on the DIN rail and fix it with the special latch on the module base.
Connect the X1 connector.
Connect the CAN connector.
Configure the module using LT setup.
Check all equipment for proper operation.
Module shut-off and deinstallation procedure
Disconnect the CAN connector.
Disconnect the X1 connector.
Remove the module from the DIN rail, releasing the latch at the bottom of the module base.
HW settings
Name
Type, range
SUBID
Default
Description
cfg
string
98
9600/8N1
cfg='SPEED/BPS', where

SPEED – baud rate [1200..115200];
B – data length [7,8];
P – presence and type of parity bit [N(No parity),E(Even parity),O(Odd parity)];
S – stop bit length [1, 1.5 or 2].

Example:

[Protocol]
string
98
—
Protocol setting is described by protocol parameter. The following

protocols are supported:

'modbus', Modbus protocol, at the end of redirection the checksum CRC16(Modbus) is added;
'dmx', DMX protocol;
'CO2' for connecting Larnitech CO2 sensors;
'salda' for connecting Salda ventilation.

Example:

1

hw="cfg='9600/8N1' modbus"


echo
on; off
98
'off'
For settings check out and testing echo parameter can be used. Module

echo-reply can be turned on or off with the help of this parameter.Echo parameter value:

Example:

1

hw="cfg='9600/8N1' echo='off'"