DW-DM02
Jump to navigation
Jump to search
DW-DM02.С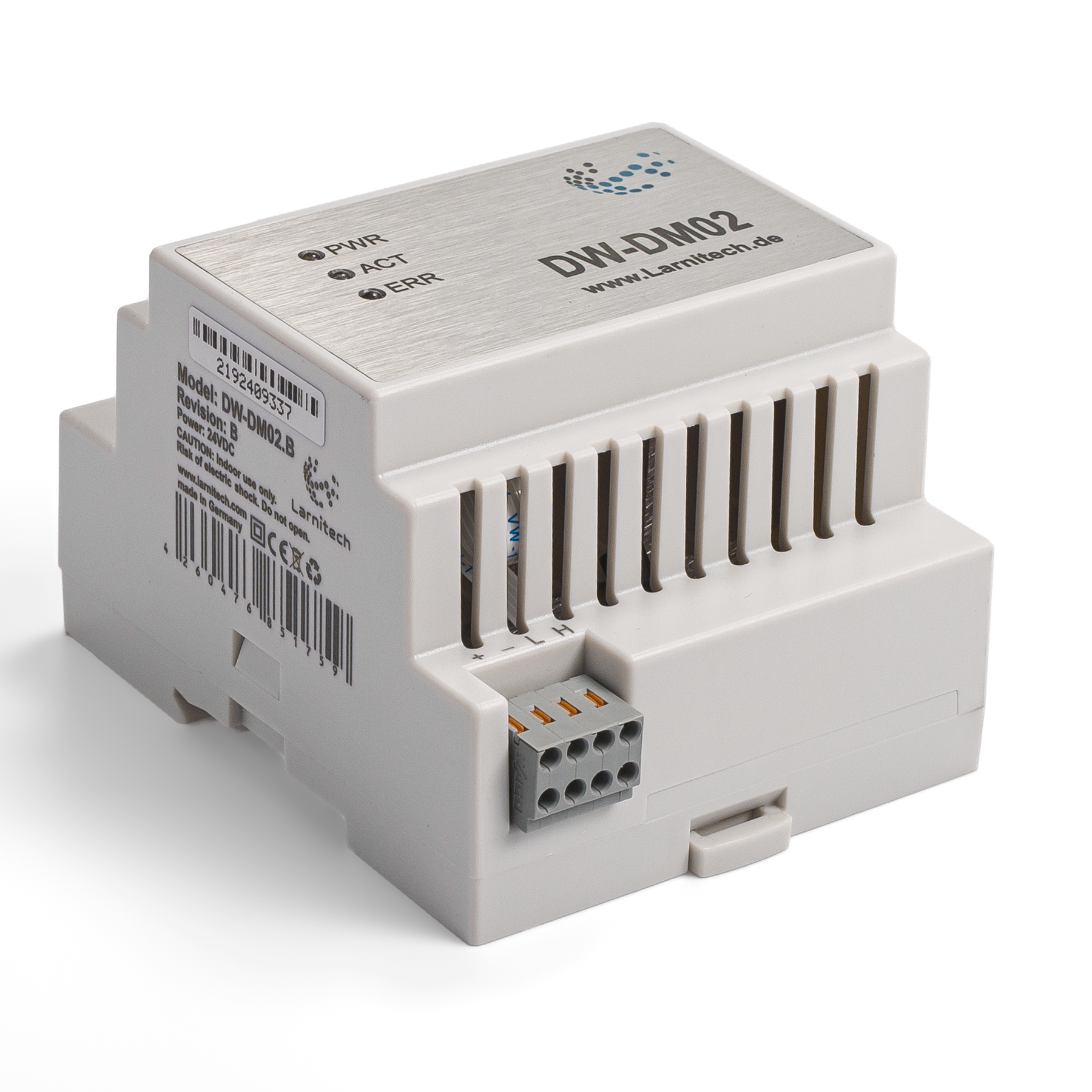 Output ports
Number of dimming channels
2
Max load per dimming channel
4.54A (1000W at 220V)
Max load per device
7.27A (1600W at 220V)
Dimmer type
MOSFET
Other
Supply voltage
11.5...27.5 V DC from CAN
Dimentions
4U, 69x100x58 mm
2-CHANNEL DIMMER
This module is designed for smooth adjustment of brightness of lighting devices (non reactive load). The dimmer type is MOSFET with trailing edge dimming. Like all Larnitech devices, this dimmer controller is automatically detected and configured when it is added to the system. A logical unit within makes it possible for the unit to perform scripts from Larnitech's large and constantly updated database and to operate on distributed logic, ensuring the reliability of its operation. Advanced LED light settings allow a more precise setup, while soft start mode prolongs lamp life. In addition to featuring protection in a range of parameters.
Features
R/C load type has 2 channels. Each channel supports up to 1000 W
Works with halogen /LED lights
Advanced LED light settings
Soft start mode
Overload protection
Overheating protection
Short-circuit protection
Plug and play (automatically detected and configured by the system)
Built-in logical unit
Regular system updates
CAUTION! All work related to the installation, connection, setting up, service and support must be carried out by qualified personnel with sufficient skills and experience in working with electrical equipment. To avoid the risk of fire, electric shock, damage to the system and/or personal injury, the system installation and assembly must be performed in accordance with the instructions listed below:
all connectivity work must be carried out with the power turned OFF;
use appropriate tools and personal protection against electric shock;
do not use damaged cables, wires and connectors;
avoid folding the cables and wires;
do not apply excessive force to the wires by kinking or pressing them too hard: the inner conductors of the cables and wires may get stripped or damaged;
do not use the power socket with poor contacts to connect;
do not exceed the load limit parameters specified in the manual;
the supply conductors wire section is subject to the specifications for current density limit, insulation type and wire material. Light section can result in cable overheating and fire.
When the power is on, NEVER:
connect/disconnect the connectors;
open modules and sensors.
Overview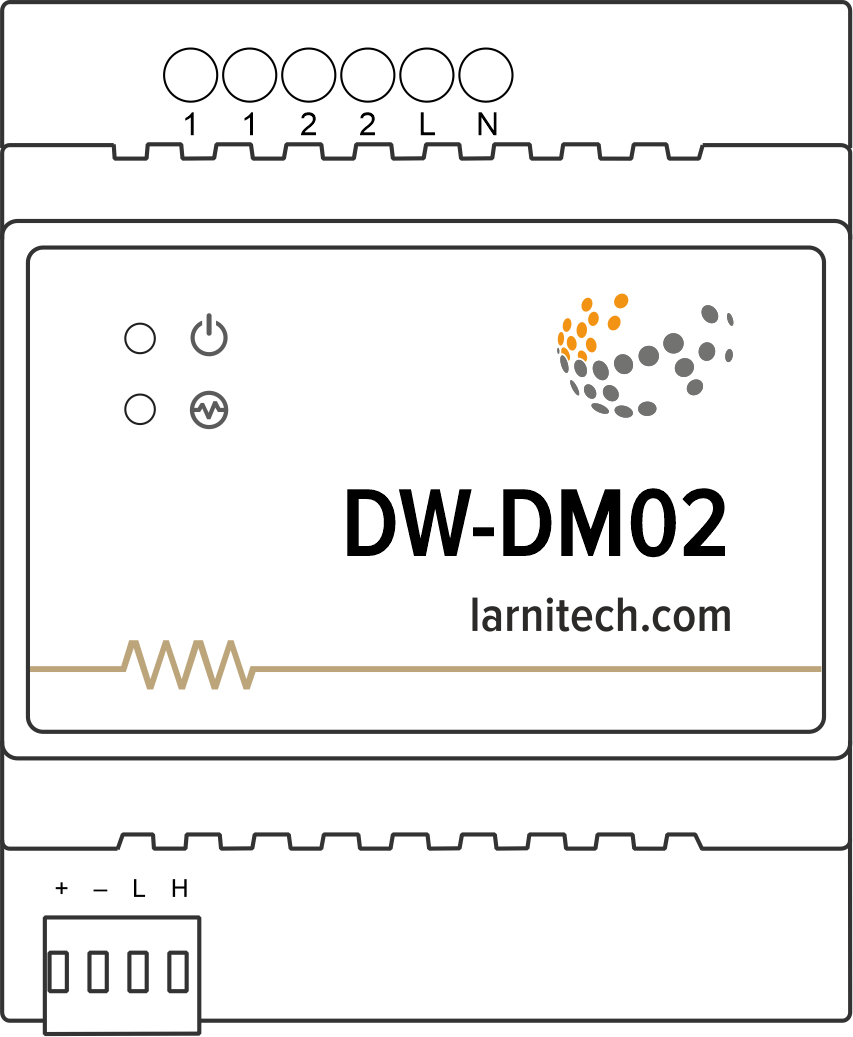 Example of connection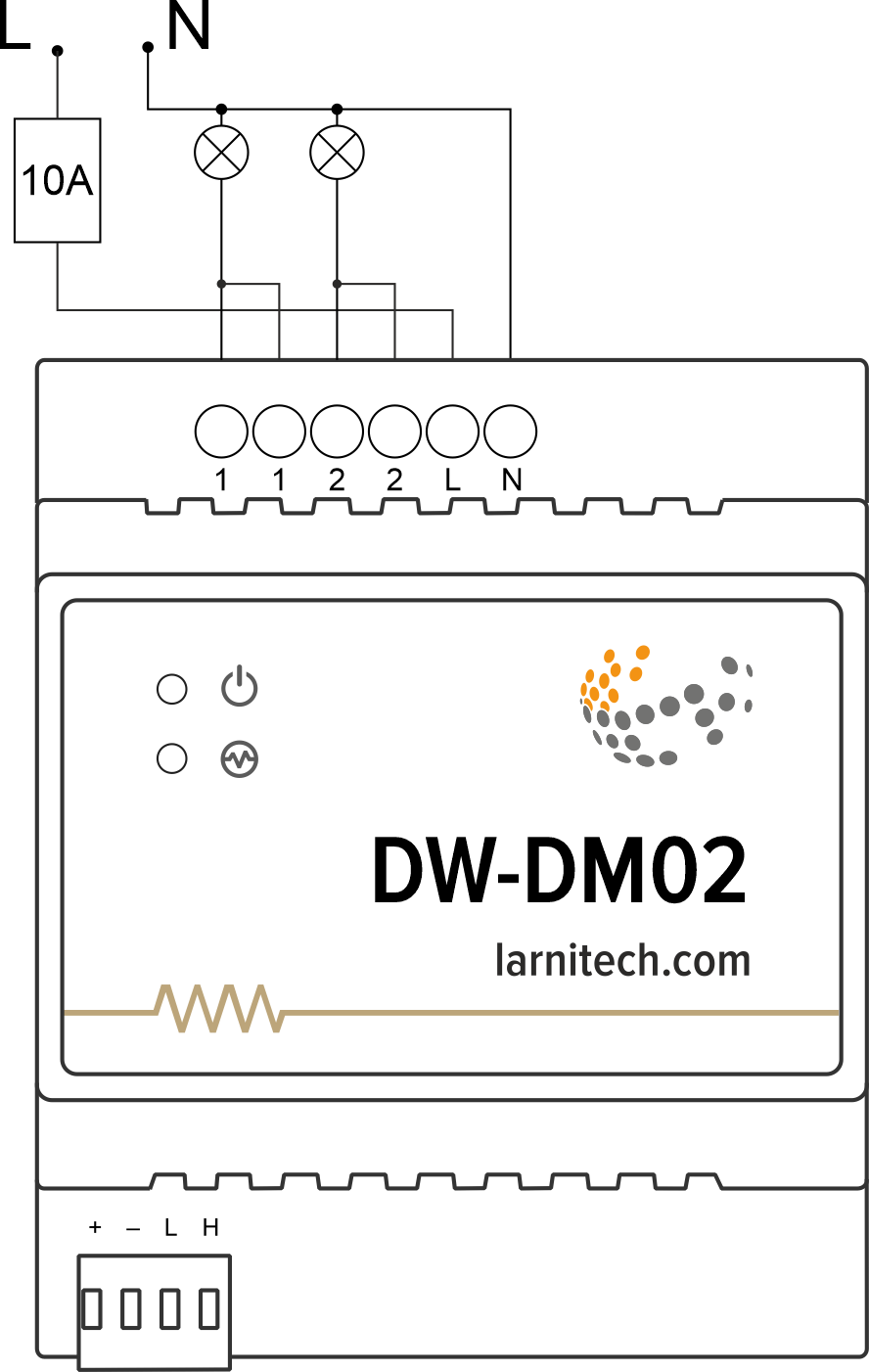 Module dimensions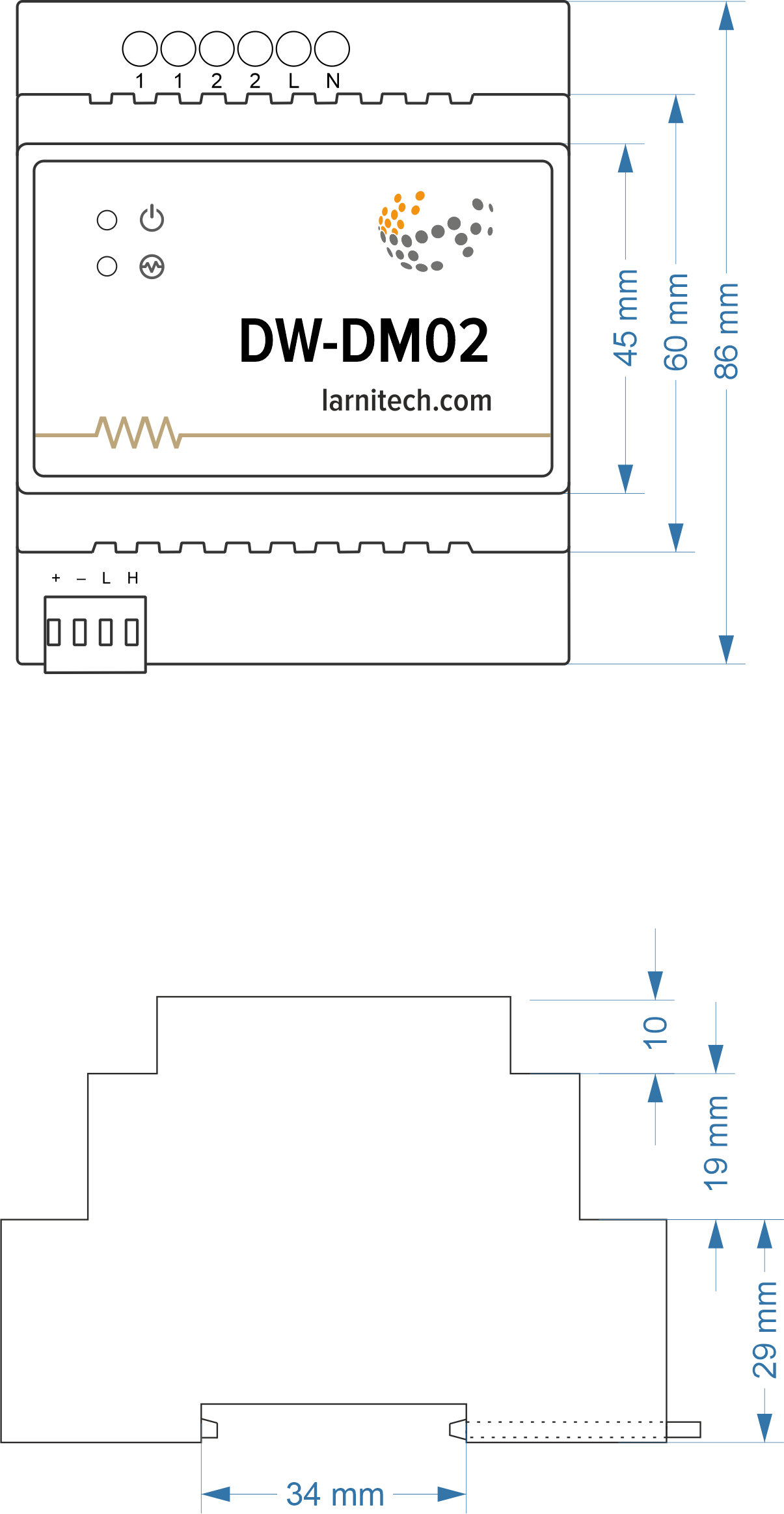 Internal layout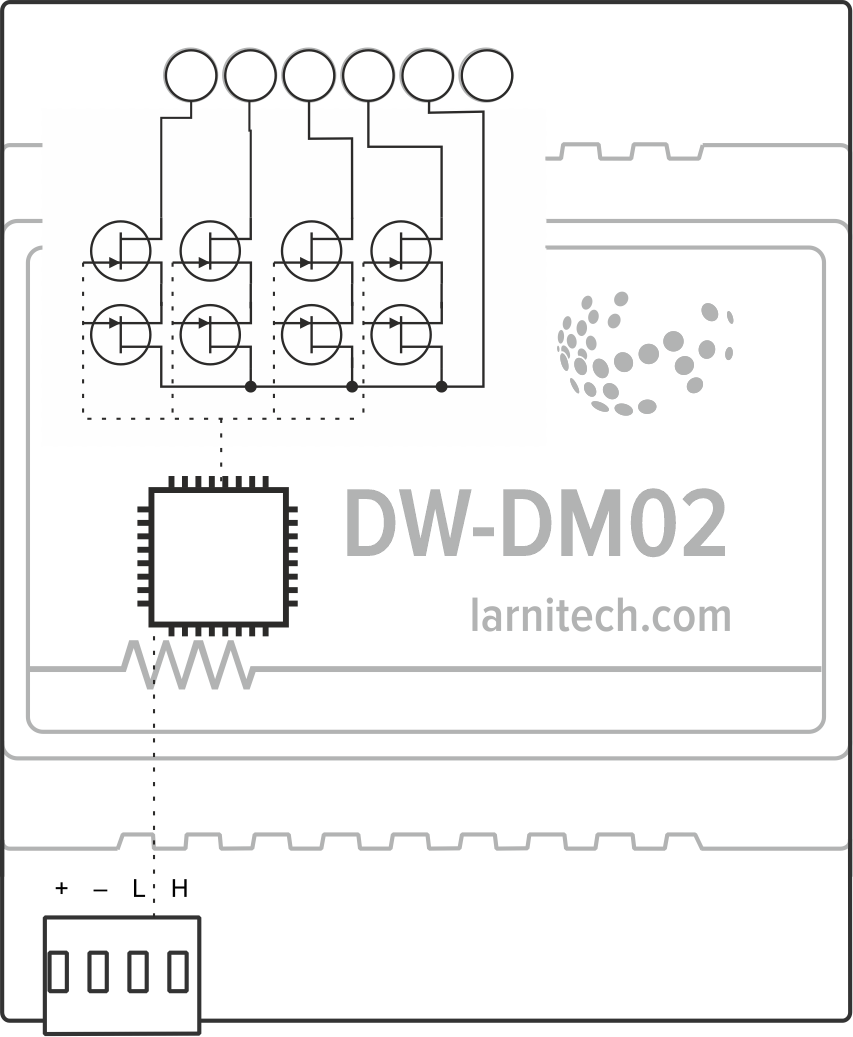 Module parameters
| Parameter name | Value |
| --- | --- |
| Dimming channels qty | 2 |
| Input voltage | 100-240V AC, 50-60 Hz |
| Current type | AC |
| Max load per channel | 4.54A (1000W at 220V) |
| Max load per device | 7.27A (1600W at 220V) |
| Dimmer type | MOSFET |
| Dimming type | trailing edge |
| Power supply | 11.5 … 27.5 V DC from CAN |
| Max current(24V) | 35 mA |
| Bus type | CAN (4-wire) |
| Equipment installation type | DIN rail (EN 60715) |
| Case material | ABS |
| Protection | IP40 |
| Temperature range | -10 … +50 °C |
| Size | 4U, 69x102x58 mm |
| Weight | 180g |
Supported load types
CAUTION! Do not overload the dimmer in order to avoid it overheating and breaking down. Use it safely by following the parameters provided in the parameters table. Only the kinds of load and load power options outlined in the compatible devices table are to be used with this dimmer.
Supported load type
Power
Conventional incandescent lamps
0-1000W
Halogen light sources
0-1000W
LED lamps with dimming support
0-1000W
Energy saving lamps with dimming support
0-1000W
Electronic ballasts with dimming support
0-1000W
Indication of module operation
Bootloader
Indicator
Status
Description

Device in bootloader

Waiting for bootloader command
Flashing firmware
Firmware
Indicator
Status
Description

Identification
Operational mode


Error
Lost connection to server
Overheat
No AC power
RTC error
Module installation and connection procedure
Install the module in the switchboard on the DIN rail and fix it with the special latch on the module base.
Connect the CAN connector.
Connect the contacts (1-2).
Configure the module using LT setup.
Apply power to the load.
Check all equipment for proper operation.
Module shut-off and deinstallation procedure
Disconnect the power from the load.
Disconnect the contacts (1-2).
Disconnect the CAN connector.
Remove the module from the DIN rail, releasing the latch at the bottom of the module base.
Dimmer workflow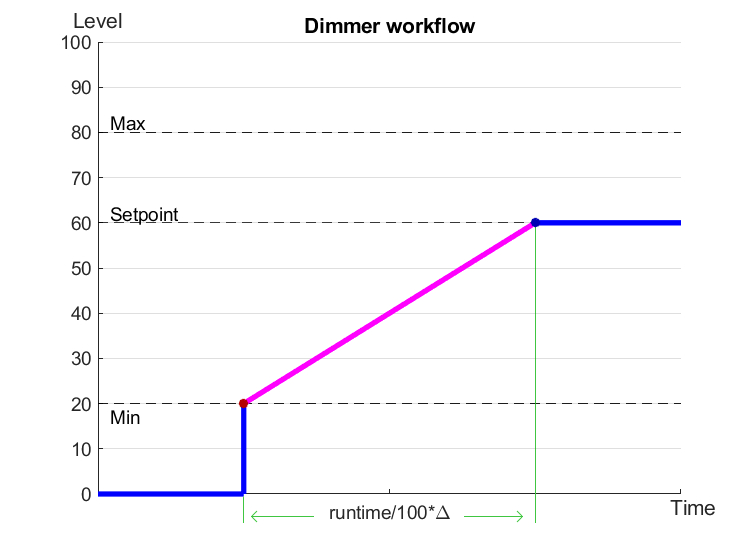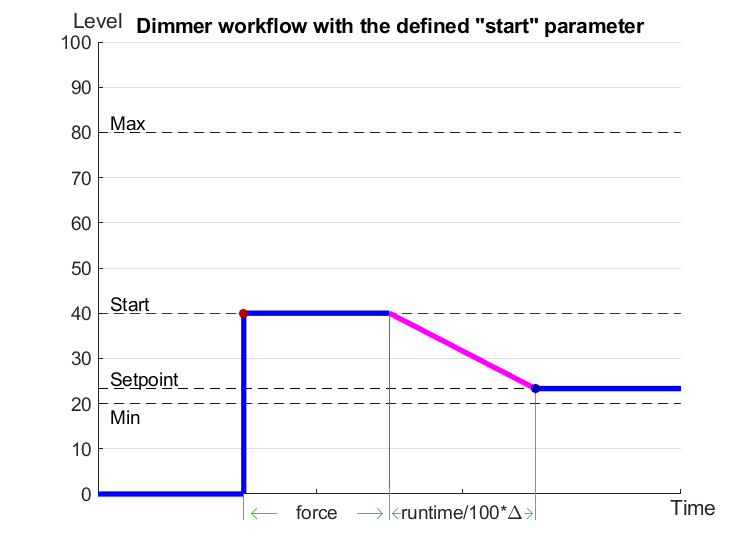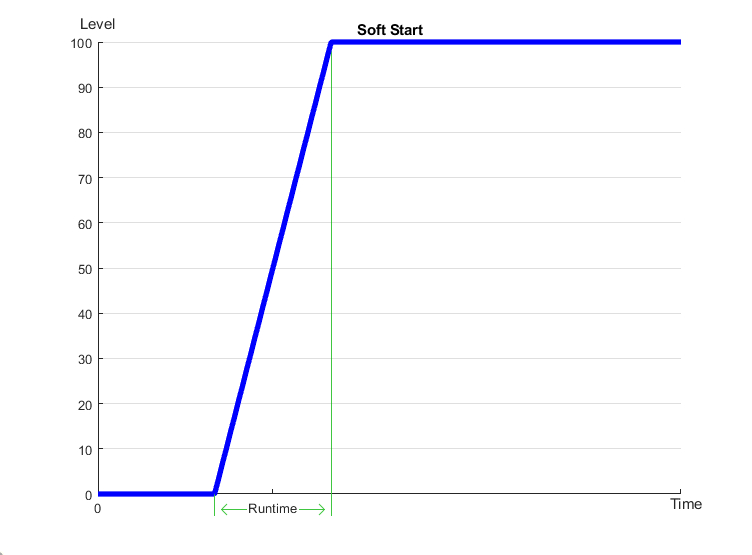 Linear, LED and Halogen workflows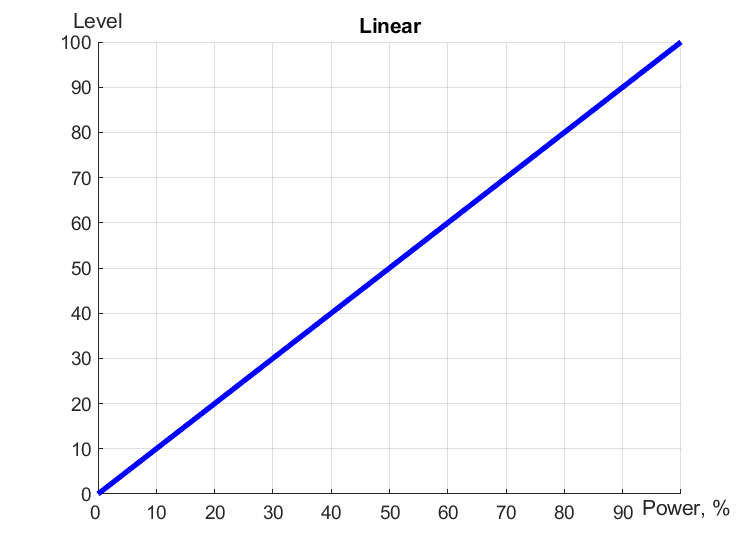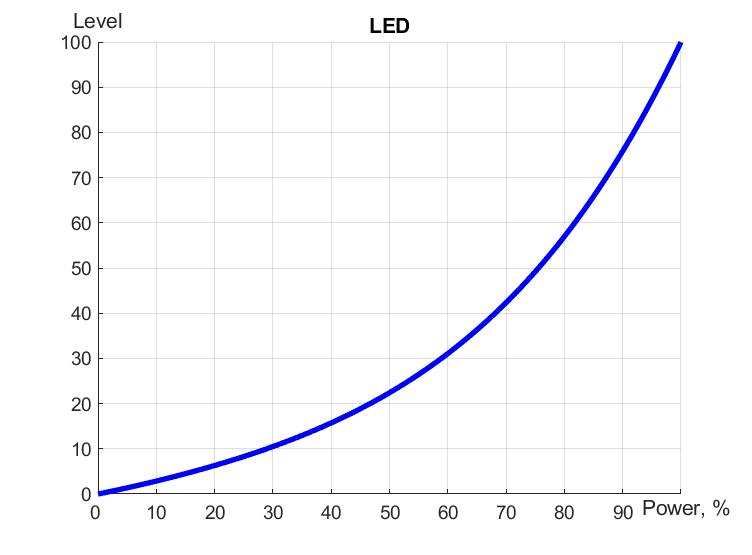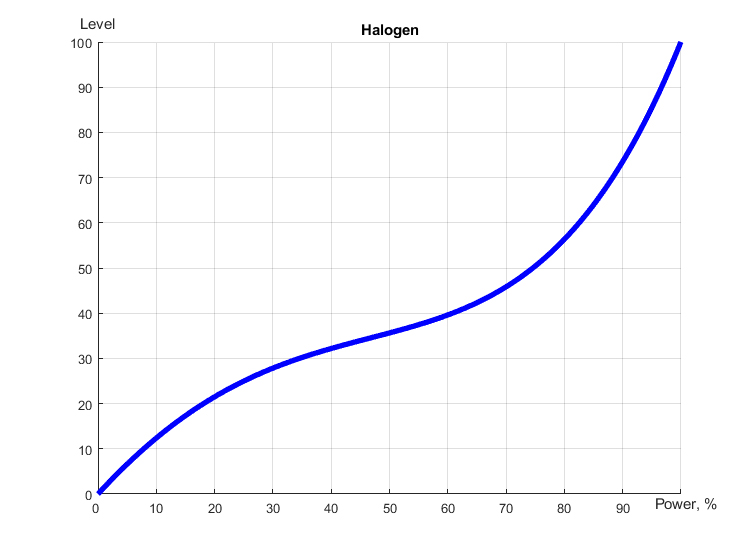 HW settings
Name
Type, range
SUBID
Default
Description
dm
char[2]
98
'LL'
Each char is responsible for the type of a particular channel

'g' – use like halogen dimer-lamp
's' – Soft Switch, lamp, when on/off power is supplied/deenergised smoothly (500msec)
'k' – Switch, lamp, when on/off power is supplied/deenergised immediately
'l' – LED Function, dimmable LED lamps
'v' – linear Function of dimming
'b' – blinds
'f' – fancoil
'-' – Channel disabled
'+' – Regular channel

Example: dm='sk'

def
integer 0-250
1-2
100
The default brightness level in case of a power reset (1..250). Example: def=250
min
integer 0-100
1-2
0
Minimum dimming level, example: min=10
max
integer 0-100
1-2
100
Maximum dimming level, example max=95
start
integer 0-100
1-2
0
The Start function is used for lamps that lack the minimal voltage to get turned on. If the set value is lower than the start value, the lamp is turned on at the start value and them the light is dimmed down to the set level. Example: start=60
force
integer 0-100
1-2
10
Time duration of the starting value (measured in milliseconds). Example: force=20
runtime
integer 0-60000
1-2
1000
Runtime is the speed of changing the brightness from 'min' to 'max' (measured in milliseconds). Example: runtime=1000
1

<item

 

addr=

"307:1"

 

auto-period=

"600"

 

cfgid=

"77"

 

hw=

"def=200 min=30 max=88 start=35 force=20 runtime=1000 "

 

name=

"Dimmer"

 

type=

"dimer-lamp"

 

uniq_id=

"51"

/>




2

<item

 

addr=

"307:2"

 

auto-period=

"600"

 

cfgid=

"77"

 

hw=

"min=20 max=90 "

 

name=

"Dimmer"

 

type=

"dimer-lamp"

 

uniq_id=

"52"

/>




3

<item

 

addr=

"307:3"

 

auto-period=

"600"

 

cfgid=

"77"

  

name=

"Dimmer"

 

type=

"dimer-lamp"

 

uniq_id=

"53"

/>




4

<item

 

addr=

"307:97"

 

cfgid=

"77"

 

name=

"Temperature"

 

system=

"yes"

 

type=

"temperature-sensor"

 

uniq_id=

"55"

/>




5

<item

 

addr=

"307:98"

 

cfgid=

"77"

 

hw=

"dm='+-'"

 

name=

"Temperature"

 

system=

"yes"

 

type=

"temperature-sensor"

 

uniq_id=

"56"

/>